English model and musician Karen Elson has spent more than two decades in the fashion spotlight, walking the runway for Alexander McQueen, Valentino, Chanel and Gucci and appearing on the cover of Vogue Italy on his 18th birthday. The 43-year-old mother of two teenagers [she co-parents with ex-husband Jack White of the White Stripes] now lives in Nashville and is a strong advocate for model rights. She recorded a new album, Greenand found love again.
What did you do as a teenage model that you wouldn't do now?
I was 15 when I started modeling. I grew up in working class Northern England and the future didn't look particularly bright and bright, so I jumped at the chance to model and travel the world. At that age, I was not able to defend myself and say no to filming that made me feel uncomfortable. I thought if I did, I would be sent home.
When Kate Moss did her famous photo shoot for The faceshe was 15 years old and topless. It's a beautiful picture, but I can't help but think it's a teenager. I had similar experiences. During one of my first shoots in Paris, at 16, I was naked. I now have a 16 year old daughter and I would not allow her to do this, yet I was in this situation. Back then, I wanted to be accepted and I wanted people to like me. I wanted to succeed. As a 43 year old female, I want to see a mood board ahead of time and get a good idea of ​​what clothes they want me to wear. Part of being a good role model back then was being spontaneous. As I got older, I became more protective of myself.
Why is model defense such an exciting project for you? There is no union or supervisory board in the modeling world, except for the work of the Model Alliance in New York. Models have the right to feel safe. I'm very passionate about these things.
I did a shoot once in a makeshift pool that looked green so they poured bleach in it. One by one, all the models ended up in the hospital because we had chemical burns. I left the set and went to the emergency room. Later that evening, my agent at the time called to tell me that we needed to send flowers and write a letter apologizing. My thing is not to criticize the industry too much, but to say that something has to be done. Let's create a scaffolding and a framework so that when talent leaves on set, we know what we're paid for, we know we're safe and valued.
Has modeling learned from the #MeToo movement? Not everyone is a predator or out to rip you off, but the mentality in the fashion industry hasn't changed much over the years. One thing I've done privately is have one-on-one chats with people at the company, and in light of the #MeToo movement, speak up. From fashion editors saying mean things about my body to photographers standing next to me when I'm naked, I tell them directly when I have a problem with it. Talent mixed with power, fame and infamy can create an unsettling and toxic mix.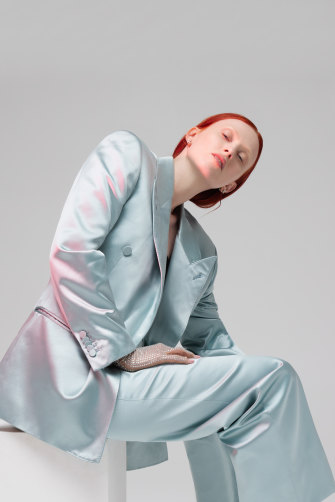 You have a new love in your life. How isit does not work ? I kept a lot of my post-divorce relationships at rock bottom, simply because being a mother was my priority. For a while, all the relationships I had were outside of Nashville — I kept things at arm's length. I met Adam Ross through my children, because our children know each other. He is a brilliant novelist and editor of an American literary journal The Sewanee Review. I was ready to let him in and wanted a grounded relationship in Nashville. He gave me Robert Hughes The fatal shore to read in Australia for my appearance at the Semi Permanent festival [in May]. I'm never short of a good book dating a novelist. He is a solid, intelligent and unwavering person.
Any new fashion brands you love? I used to be heavily into vintage and browse vintage stores, but now nothing stresses me out! I really like Another Tomorrow. There is a QR code on each tag that tells you where the garment came from and every step of the process [of making it]. They create modern and utilitarian outfits.
What is a career pinch moment? Working with the late Alexander McQueen on his Spring 2004 runway show, based on the film They shoot horses, don't they. It was a real pinch moment.
Is there a recent loss in the fashion world that you can't get over? Absolutely [former Lanvin creative director] Alber Elbaz. He was someone I cared about, a true friend. It affected me because I didn't get a chance to say goodbye.
What life advice do you follow? It's very simple – whenever I have a struggle or go through a tough time, I always remind myself that this too will pass. I'm a big proponent of putting one foot in front of the other and remembering that tomorrow is a new day. I have always believed in myself and in my industry, even if I had people who said to me "It's over" or "This business is for you" or who told me that they didn't believe in my music. The faith I have in my dreams catapults me and it's not easy, but those who have faith find a way.
Describe your personal style. In Nashville, I'm very casual in jeans and T-shirts. But then I hop on a plane to go somewhere fabulous and need multiple suitcases full of dresses and can't decide what to pack. The older I get, the less I care about trends. If it looks good and it feels good, I'm okay.
When do you feel the oldest? When I watch TikTok videos of cute animals and my kids tell me to turn it down because I'm embarrassing them.
If you could duet with anyone, who would it be? Stevie Nicks or Cher. I met Cher at the Met Gala. She commented on a crazy red and gold Dolce & Gabbana embellished dress I was wearing – she grabbed me to say, "Love your dress." I felt like I was anointed.
Loading
What did you like about coming to Sydney to speak at Semi Permanent? I had published my memoirs, The Red Flame in 2020 and I loved that a festival of ideas like Semi Permanent reached out to me and wanted me to share ideas about my creative process. I lean into those spaces more on top of what I do, because I want to use my voice in a meaningful and impactful way.
Hair, Daren Borthwick using Oribe; Makeup, Linda Jefferyes using Charlotte Tilbury; Assistant Stylist, Emerson Conrad.
Karen Elson's Scrapbook Green is out now.
To know more about Sunday life magazine, Click here.
Get the most out of your health, relationships, fitness and nutrition with our Live Well newsletter. Receive it in your mailbox every Monday.