The S&P Global PMI Business Surveys New Export Orders Index tracks foreign demand for goods and services. The data can be used to gauge export demand over time across countries and sectors.
The New Export Orders Index can also be aggregated to provide a useful and timely guide to global or regional trade flows, providing insight into changing demand conditions well ahead of comparable official data.
How is the PMI of new export orders calculated?
Purchasing managers participating in S&P Global's Business PMI Surveys, conducted in 44 countries, are asked about the average change in the volume of new export orders from the previous month. The exact wording of the question is:
"Is the level of new export orders received this month higher, lower or unchanged on average from a month ago?
"This is the volume of new orders/business (in units/volume) from customers outside of your country."
Companies are also asked to provide a reason for any changes, if known.
The same question is asked in the manufacturing and services PMI surveys, as well as in the construction PMI survey when it is conducted.
Note that the question refers to the flow of new business received from overseas via orders, not actual physical shipments each month. The latter usually occurs with a lag or lead time, depending on product availability and necessary arrangements for fulfillment and shipment.
In a manufacturing company, exports of goods are easily quantified as those to be shipped to non-domestic customers. In a company in the service sector, exports will vary by sub-sector, but will include activities such as consultancy work provided to foreign customers as well as many travel and tourism related activities and financial services activities.
Note that service exports will often be more difficult for survey respondents to quantify in volume rather than value.
The percentage of responses is weighted to derive a "diffusion index" as follows:
INDEX = (percentage of survey panel responding "higher") + (percentage responding "no change"*0.5)
Therefore, readings of 50 indicate no change in new export orders from the previous month, readings above 50 indicate an increase, and readings below 50 indicate a decrease.
The index is also seasonally adjusted to remove normal variations in demand for the time of year (we use the widely used US Census Bureau's ARIMA X-12 software to remove seasonality).
To ensure that the survey data is as representative as possible, in each country the panel of companies is carefully selected to accurately represent the true structure of the chosen sector of the economy as determined by official data. .
A weighting system is also built into the survey database that weights each response based on the size of the industry in which a company operates and the size of its workforce. The survey panels therefore reproduce in miniature the structure of the sector monitored.
Monitoring of national exports of goods and services
The PMI of New Export Orders allows us to track a country's international demand for goods and services in a timely manner, on a monthly basis. As an example, Chart 1 shows the composite index of new export orders for the UK, along with its two main components of manufacturing and services, up to April 2022.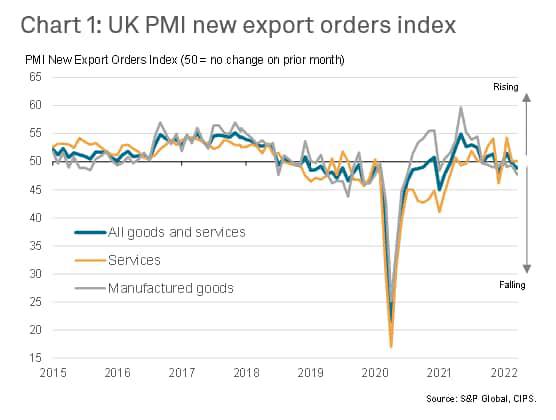 In the example in Chart 1, strong growth in UK exports of goods and services was recorded from mid-2016 to mid-2018, after which exports first stagnated and then declined; a downturn that accelerated sharply – to an unprecedented degree – during the initial phase of the COVID-19 pandemic. UK merchandise exports recovered at the start of the pandemic, although the recovery was volatile amid new waves of the virus. Services exports only started to pick up noticeably in late 2021 and early 2022, with Delta and Omicron waves driving tentative recoveries.
Survey data can therefore help us understand the evolution of official trade data for a given country, with PMI signals having the advantage of being available almost two months before most comparable official updates. Often, there are no high-frequency official data on trade in services.
Charts 2 and 3 plot manufacturing PMI data on new orders against official export data, in these cases hinting at an impending slowdown in exports from the UK and Germany in the wake of the war in Ukraine.
Chart 4, meanwhile, plots the PMI for mainland China, produced by S&P Global for Caixin, against comparable official data. PMI data points to a steepening of the decline in exports in April 2022 amid lockdowns intended to inhibit the spread of the Omicron variant.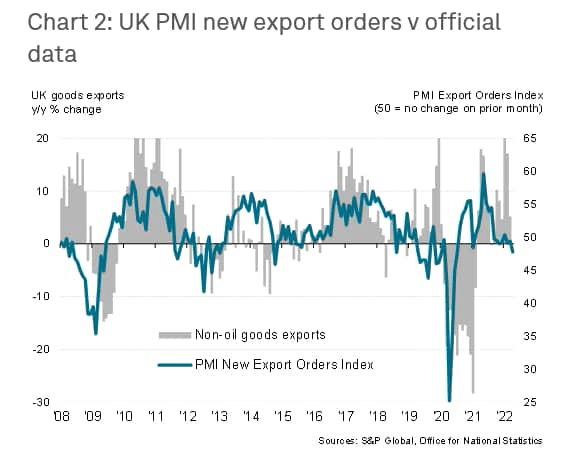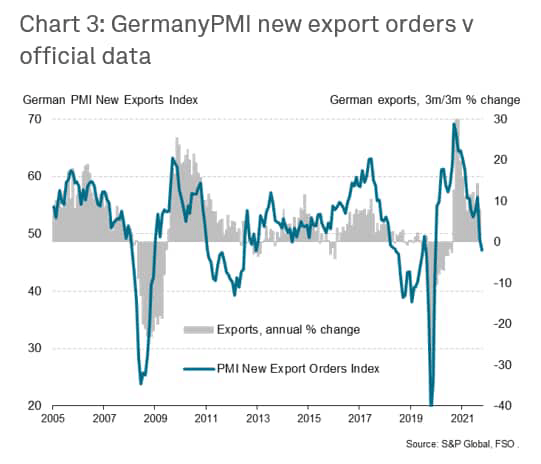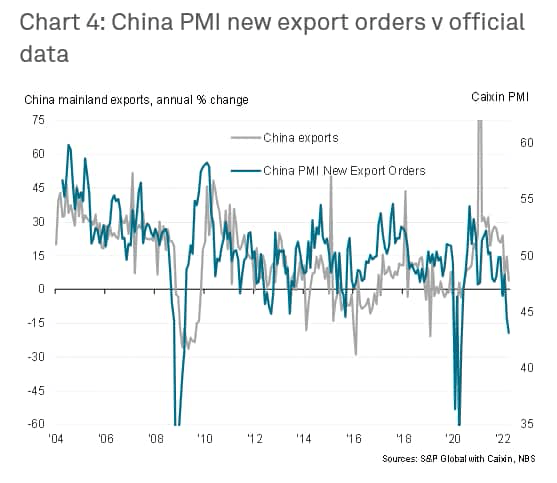 Some caution is often needed when comparing survey data with official figures.
First, keep in mind that the PMI excludes energy and agriculture, so try to compare like-for-like where possible.
Second, PMI data tends to show smoother trends than official data, with official data prone to large swings due to changes in certain high-value sectors (such as aircraft deliveries or precious items). Therefore, the PMI is often best used as an indicator of the export trend, rather than an accurate guide to month-to-month variations.
Third, official data tends to be revised after first release – sometimes quite significantly.
Fourth, remember that the PMI records export orders and not shipments, as it is the latter that are measured by official data.
Tracking Domestic Demand vs. Export Demand
It is also useful to compare the PMI of new export orders with the broader PMI of new orders, the latter tracking orders from domestic and exporting customers. As the example in Chart 5 shows, after the initial pandemic slowdown in demand seen in early 2020, growth in export orders has lagged overall growth in new orders for goods and services in the United States. United. Services exports were particularly weak (due to pandemic travel restrictions limiting export opportunities for more labour-intensive services and dampening tourism and leisure). However, in early 2022, services exports picked up amid looser pandemic restrictions. A commensurate slowdown in the overall growth of new orders for services therefore indicates that domestic demand for services has weakened.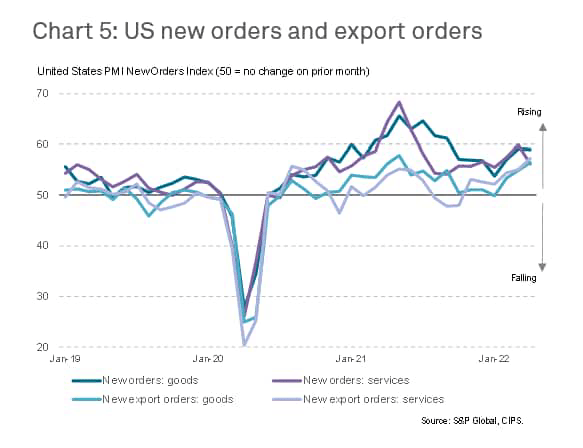 International comparisons
Using the same PMI survey methodology in each country facilitates international comparisons of export performance. For example, Chart 6 ranks countries according to the performance of their new export orders in the manufacturing sector.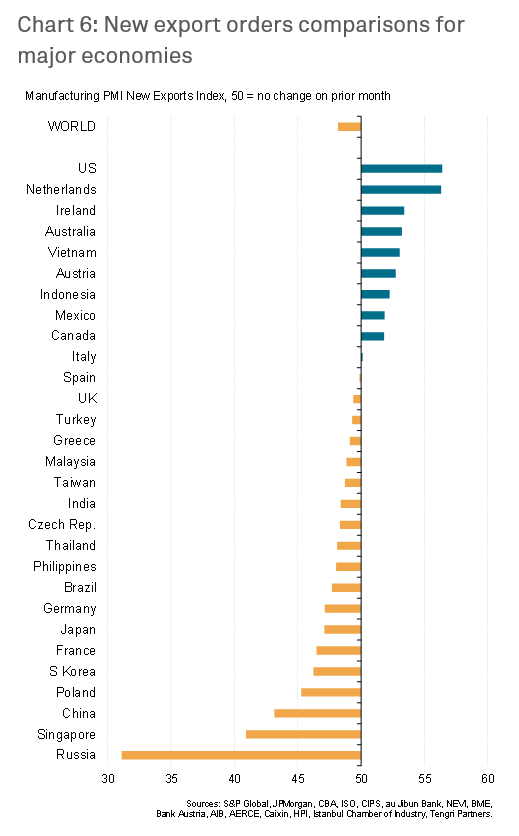 Chart 6 illustrates how the United States recorded the strongest growth in new export orders in April 2022 of any economy covered by the S&P Global PMI series, followed very closely by the Netherlands. In contrast, Russia recorded the largest decline, followed by Singapore and mainland China.
The use of identical national methodologies also facilitates the aggregation of data into international, regional and global indices by weighting each country's new orders index by the size of their GDP.
Thus, export trends can be compared and tracked by region of the world, as shown in Figure 7. Note that euro area exports include intra-regional trade between member states.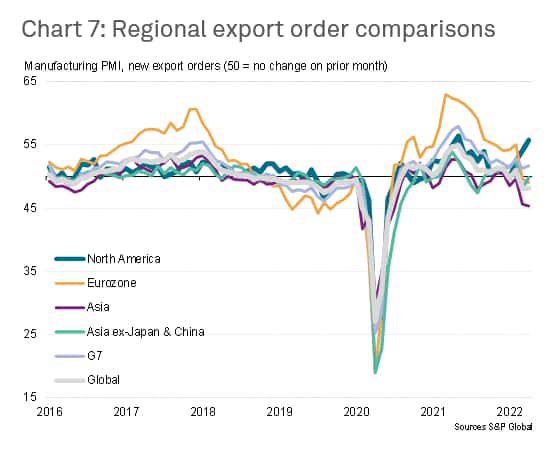 Aggregating PMI data into an index of global export orders trends is actually one of the most widely used applications of the data. Chart 8 plots the global new orders PMI against official trade volume data, as compiled by the CPB World Trade Monitor from individual national statistical agencies. The PMI acts as an accurate leading indicator of changes in global trade volumes, gauging the growth rate in advance in all the most extreme occasions such as the pandemic, and even in such unusual times the PMI provides an early indication of turning points in the business cycle.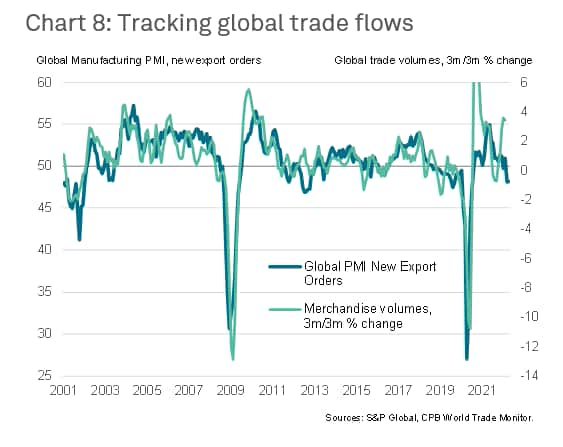 Industry Trade Outlook
Additional information on trade flows can be gleaned from detailed sectoral PMI data, which tracks new export orders for individual sectors at the global, US, European and Asian levels. This allows cross-sectional analysis of trade at any given time, as shown by the global sector rankings in Chart 9.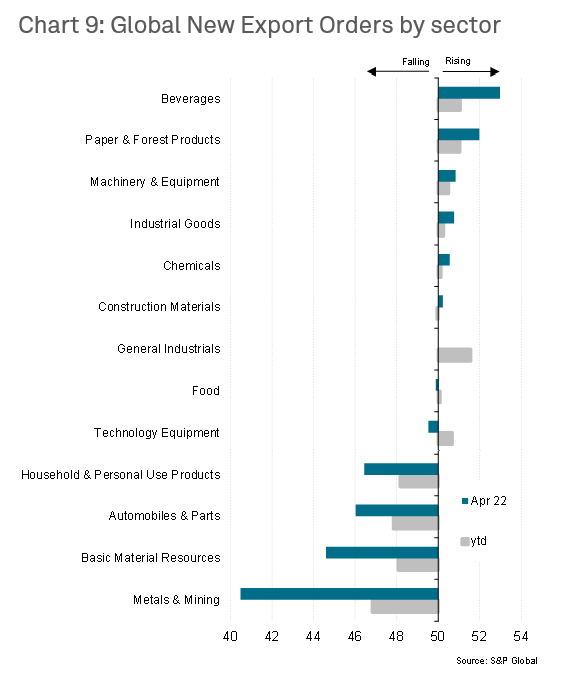 Alternatively, sector PMI data can be used for time-series analysis, as illustrated by global exports of specific products over time, such as in Chart 10, the broader global new orders index. export of entire manufacturing industry providing readily available reference for relative industry. performance.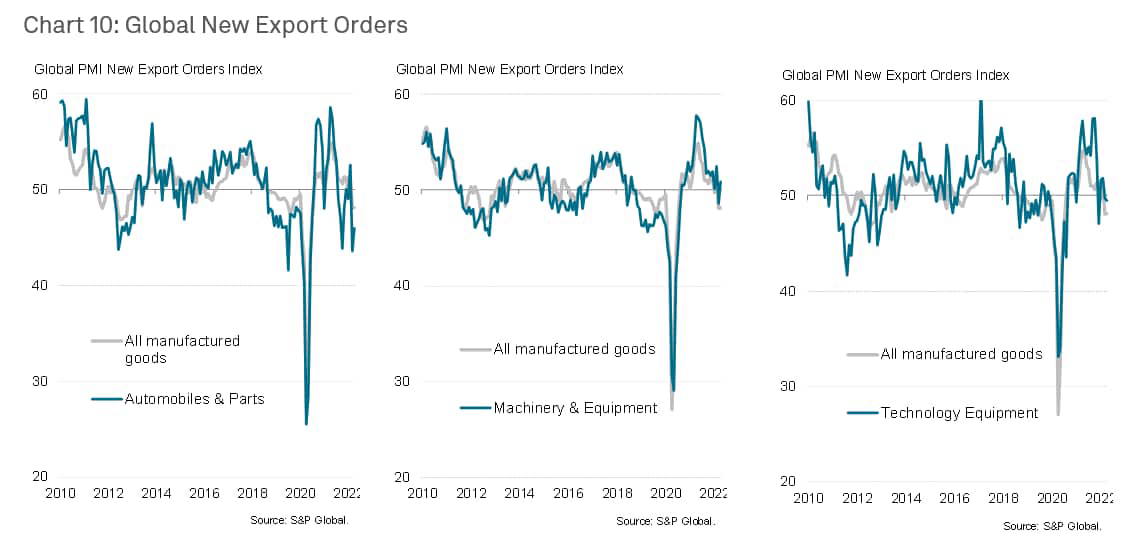 Original post
Editor's note: The summary bullet points for this article were chosen by the Seeking Alpha editors.