Some official sources have confirmed that two cartel members in particular have government insiders in Australia and abroad in their networks. Mr Phelan confirmed that federal law enforcement operations had been compromised by alleged leaks, but declined to provide specific details.
The Australian Criminal Intelligence Commission estimates the cartel's annual net profit at $ 1 billion, with revenues of $ 1.5 billion.
Mr Phelan also said that the introduction into Australia of several encrypted telephone platforms, including Ciphr, which were used by thousands of Australians to engage in crime "certainly comes back to elements of the Australian cartel". Police sources said Australia's distribution of an encrypted phone platform called Anon was also linked to a cartel.
The revelations – which extend to confidential law enforcement assessments that Australia's first airline Qantas was infiltrated by criminals – have put the issue of organized crime back in the spotlight.
Agencies are pushing politicians to back blocked legislation on security ID cards at ports and airports to prevent "trusted insiders" from exploiting loopholes in border security. The laws are supported by the Coalition, but Labor claims they are flawed.
The agencies are also looking for new laws giving authorities better access to the "dark web" and to encrypted communication platforms used exclusively for criminal purposes.
Mr. Phelan refused to identify the members of the cartel. But sources from federal and state police agencies say they include Comanchero boss Mark Buddle (who lives in the United Arab Emirates), Hells Angels boss Angelo Pandeli (in Greece and the United Arab Emirates), Michael Tu (Hong Kong), Mohamad Bousaleh (Dubai), George Dib (Lebanon) and Hakan Arif (Turkey). A recently kicked Adelaide bicycle boss from Singapore and a Sydney logistics, ports and transport expert are also members of the cartel.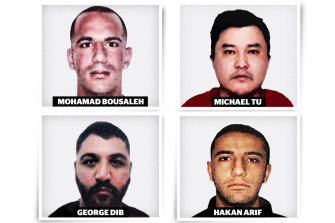 The founding member of the cartel and Australia's most wanted priority target is Hakan Ayik, who Age, the Herald and 60 minutes found in Turkey, where he lives under a new name, Hakan Reis. Ayik, known as the 'Facebook gangster', now runs the King Cross Hotel in Istanbul and owns two houses in upscale Turkish suburbs, including the gated community of Kemer Country – information that was provided to the Australian Federal Police. Ayik has two children and married a Dutch woman, Fleur Messelink.
Loading
Ayik is suspected of cooperating with Pandeli and Buddle, former warring bikers who now work together as part of the cartel to organize imports, including a $ 1 billion shipment of methamphetamine to Western Australia in 2017 and an import into January 2020 in Melbourne.
Mr Phelan was appointed head of the Criminal Intelligence Commission in 2017 after becoming Deputy Commissioner for National Security in the Australian Federal Police. His interview with Age, Herald and 60 minutes is the largest by a commission CEO in the history of the country's most secretive and powerful crime-fighting agency.
When asked why he is now speaking in public when he had previously kept a low profile, Mr Phelan said: 'At this precise moment Australia faces a very serious threat of [offshore] serious and organized crime.
He said the police service, led by the commission and the federal police, was using innovative ways to track down cartel members, including seeking ad hoc extradition deals and targeting family members and associates in Australia who were helping the cartel.
"I don't care about playing fair either," said Phelan. "Absolutely, we are chasing them and we make no apologies."
He also revealed that police across Australia would increase targeting of Comancheros.
The Morning Edition newsletter is our guide to the most important and interesting stories, analysis and ideas of the day. register here.